Musical Instrument Repairs
Technician on-site for instrument repairs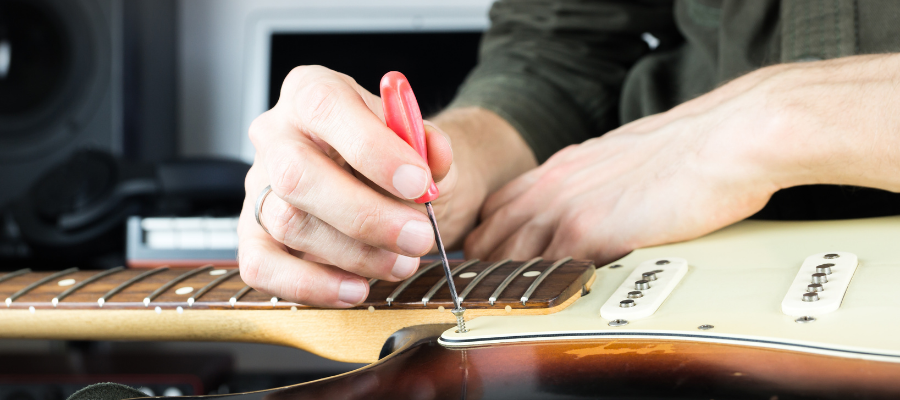 Over 30 years of experience
Our musical instrument technician has over 30 years of experience working on a variety of instruments, making him a great resource for all music lovers. Need help with your instruments or have questions about some of ours? Craig is happy to help! Book an appointment to come in and see him Mondays, Wednesdays or Fridays each week.
Repairs – 
Bring your musical instruments to us for an assessment on repairs. Our technician will review your items and give you an idea on costs and timelines to bring them back to their former glory.
Tuning – 
Is your instrument not sounding right? Don't worry – our technician can help with this too. Bring your instrument in to see our on-site technician for a quick tuning session.
Sales & Assessments – 
Looking to sell or trade your instrument for something better or different? Our technician can help determine a fair price your item and help you find something new-to-you.
Guitar Restringing – 
Need a bit of assistance with restringing your string instrument? We can help.                                                                         Bring your item in for an assessment and quote from our technician.
Refinishing or Refurbishing – 
Not sure if your piece is salvageable? We can help determine if your instrument is too far gone or if we can help you bring it back from the brink.
Book An Appointment
Give us a call to book a free consultation with our Musical Instrument Technician
32618 Logan Ave,
Mission, BC V2V 6C7
Monday – Friday: 10 am – 5:30pm
Saturday: 11am – 3pm
Sunday – CLOSED